← Back
Flex $ - Choose your Amount $0.90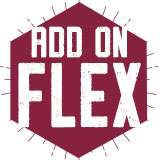 Use at any of our dining locations!
Minimum purchase $25
Get 10% Bonus Flex with your purchase!
Choose the amount that works for you! Flex Dollars can be used at any dining location. Make sure you have what you need to buy what you want! Minimum purchase required of $25.00. Make any purchase and receive 10% Flex Bonus FREE!
Pay $22.50, Get $25 Flex!
Pay $45, Get $50 Flex!
Pay $67.50, Get $75 Flex
Pay $90, Get $100 Flex!
Pay $135, Get $150 Flex!
Pay $180, Get $200 Flex
Pay $270, Get $300 Flex!
Pay $360, Get $400 Flex